In recent times, the development paradigm has shifted to be much more sustainable, since the unbridled development of a cities can take a toll on the environment and, in turn, human lives. Cities everywhere take note while citizens, ever more aware of their quality of life, demand and initiate green spaces to improve their neighborhoods.
Urban green space comprises an open space within a city that is reserved for plants, water features, and other forms of the natural environment. It can be a park, a natural landscape, or a playing field, and it's usually open to the public although it can be owned publicly or privately by a community, an education institution, a corporation, or any other organization.[1]
The benefits of urban green spaces include negating urban heat, offsetting greenhouse gas emissions, attenuating stormwater,[2] and reducing financial burdens of healthcare while increasing people's quality of life.[3] In fact, human chronic diseases, and associated symptoms, such as anxiety, obesity, and cardiovascular diseases, have been associated with the presence of and access to green spaces.[4]
As a tropical region, Southeast Asia has long been aware of the benefit of green spaces. Illuminate Asia's recent studies have revealed that countries such as Indonesia, Thailand, and Vietnam have been dealing with pollution and degradation of the urban natural environments and are working to improve the situation while also considering developmental priorities.
In Indonesia, the recent national public discourse on urban green space stood out during the mayoral term of Tri Rismaharini in Surabaya, the second-largest city in Indonesia, around the mid-2010s. With a background as a public servant of the city planning department and then the city park and cemetery department, she made breakthroughs by truly prioritizing the improvement of Surabaya's livability through green policies. Among others, she encouraged the public to link urban green spaces and parks as active spaces, promoted planting programs for urban villages by communities themselves, and re-evaluated land use to encourage conversion of disused land to green space.[5] Jakarta as the capital city with more complex issues has tried to catch up through the recent revamps of some of its green spaces, such as Tebet Eco Park and Langsat Park, while adding various other initiatives to incorporate natural elements in the cityscape such as garden roofs in many buildings owned both by the public authorities and the private sector. Some cafés popular for their natural elements in their exterior and interior include the jungle-themed Awan Café, Moonbow Rooftop Café, and Skygarden Café.
Awan Café Kosenda Hotel, Jakarta. Source: www.manual.co.id
In Bangkok, the largest city and the center of economic and political activities of Thailand, the authority through the Bangkok Metropolitan Administration (BMA) has stepped up in 2020 by launching the Green Bangkok 2030 project in an effort to explore the sprawling city to increase urban green spaces by developing unused spaces scattered throughout that belong to both government and private agencies.[6] On the other side of the government's development project, people can pause their life for a moment or slow down and escape the noisy and chaotic urban environment by refreshing themselves in "small forests" built in some hotels, cafés, and other commercial spaces, such as GalileOasis and Fern Forest Café.
Fern Forest Café, Chiang Mai, Thailand (Source: www.tripadvisor.co.id)
Meanwhile, Vietnam, one of the fastest-growing economies of the 21st century, is not far behind. As climate change and the rise of temperatures have induced more and more need for mitigation, the Vietnamese authorities have realized that the rapid progress of development must coincide with the creation of more green spaces. In Saigon, for example, the city authority launched a 10-year project in 2022 to increase green spaces and remove factories from residential areas.[7] The desire of Vietnamese authorities over fresh and green initiatives is captured and responded by communities. In the past years, sustainability and nature were highlighted in art, for example, in Art in the Forest (2018) and Flamingo Museum of Contemporary Art.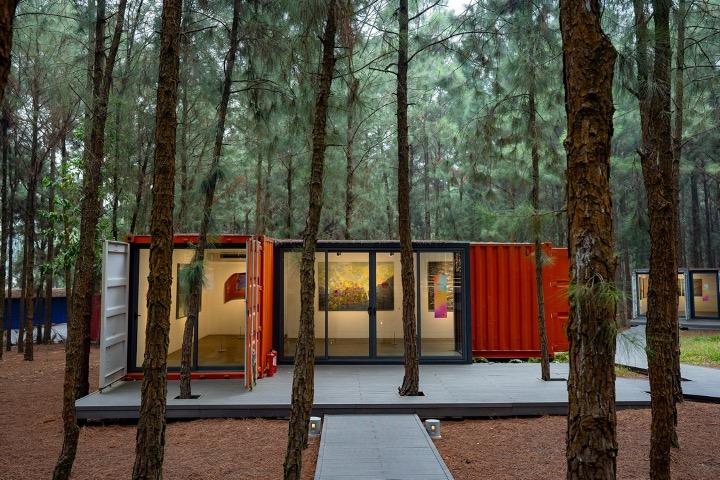 Flamingo Museum of Contemporary Art, Vietnam (Flamingo Museum Contemporary Art Facebook page)
All these efforts to provide more urban green spaces will be beneficial for our societies which have always regarded nature as an inextricable part of life and an ultimate source of rejuvenating forces. As rapid urbanization changes our traditional way of life, humans must be more creative in thinking of ways to truly stay connected with nature for the sake of our quality of life.
[1] See "Urban green space", https://en.wikipedia.org/wiki/Urban_green_space.
[2] A.C. Lee, H.C. Jordan, J. Horsley, "Value of urban green spaces in promoting healthy living and wellbeing: prospects for planning",Risk Manag Healthc Policy, 27 Aug 2015;8:131-7. DOI: 10.2147/RMHP.S61654. PMID: 26347082; PMCID: PMC4556255.
[3] "Urban green space", https://en.wikipedia.org/wiki/Urban_green_space.
[4] M. Kingsley, EcoHealth Ontario, "Commentary – Climate change, health and green space co-benefits", Health Promotion and Chronic Disease Prevention in Canada, Vol. 39, No. 4, April 2019. DOI: https://doi.org/10.24095/hpcdp.39.4.04.
[5] See "Surabaya's urban green space strategy reducing city temperatures", https://naturalwalkingcities.com/surabayas-urban-green-space-strategy-reducing-city-temperatures/
[6] See "The Green Bangkok 2030 Project", c40.org/case-studies/the-green-bangkok-2030-project/.
[7] Agnes Alpuerto, "Nature Over Urbanization: Vietnam Seeks to Add More Green Space", vietcetera.com, 11 March 2021, https://vietcetera.com/en/nature-over-urbanization-vietnam-seeks-to-add-more-green-space.